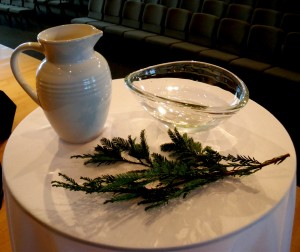 A couple Sundays ago, we got a little wet. Pastor Kevin took a bowl and a branch and walked along the front of the church, flicking water at people! This was a new experience for many of us. However, sprinkling with water is common in both the Greek Orthodox and Roman Catholic traditions and has been practiced since the 9th century.
In the Roman Catholic tradition the practice of sprinkling people with water is an optional part of the Sunday liturgy of the mass.  The practice is known as Asperges because the sprinkling commonly happens while Psalm 51 is sung in Latin (Asperges me, Domine, hyssopo). The words of Psalm 51 "Cleanse me with hyssop and I will be clean, wash me and I will be whiter than snow" appropriately match the action of sprinkling with water, symbolic of washing and cleansing. Water is taken from the baptismal font and sprinkled over the congregation as a reminder of the cleansing received in baptism.
The Eastern Orthodox tradition also sprinkles people with water. The water which is sprinkled is water which has been blessed either at the Great Blessing of the Waters which takes place on the feast of Epiphany (the celebration of Christ's baptism in the Eastern Orthodox tradition) or during one of the Lesser Blessings of Water which occurs on the first day of each month. In this context the sprinkling of water symbolizes blessing and dedication as well as cleansing.
During our service on November 11, 2012 at Granite Springs we borrowed from this ancient practice of sprinkling with water to remind us in a tangible way of the cleansing and renewal we have received in Christ. As we felt the water we were encouraged to reflect on what it means to be baptized (or what it might mean to be baptized) and the impact that has on our identity. We were reminded that we are loved by God, blessed with every spiritual blessing, united with Christ and each other, cleaned through Christ's death and resurrection, and forgiven.