This past Sunday I was able to attend "Encounter Church" in Grand Rapids, Michigan.  As we sang together—almost 300 of us, 20% or more college age folks—I was overwhelmed with gratitude.  For you!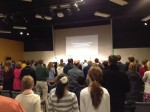 On the platform at Encounter, leading music was Bryan Van Soelen, an intern at Granite Springs in 2010.  The senior pastor, who gave an excellent sermon,  was Dirk Van Ek, an intern here in 2007.  And playing bass guitar was KJ Van Ek, an intern here in 2010 and then again in 2011-2012.  What joy!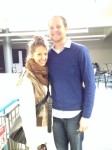 Recently they purchased a facility—yes, they're only three years old, but bought a former health club, a 40,000 square foot bargain!  As we toured it, they introduced Gerry and I this way, "These    folks are from Granite Springs Church in Lincoln, CA, the church that inspired Encounter!"  Later at  lunch that Sunday Dirk told me, "When folks don't get our vision for reaching people outside the  church walls, I think, 'Let's send them to Granite Springs so they will get it!'"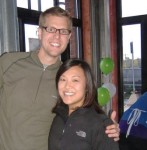 Look what you've done.  By giving of yourselves, by creating space for people learning ministry, you've helped begin a thriving church—and that's just one story.  Here's another.  On Monday I received an email from the director of the Jubilee Fellows program at Calvin College, the summer internship program that has brought us college juniors every year since 2005, including Nicole and KJ.  She saluted our "church culture that supports the "incubator for ministry" idea".
Of course, I could list many reasons I'm thankful for Granite Springs Church, but this week, I'm especially thankful for a vision for creating space for people learning ministry.
Happy Thanksgiving everyone!