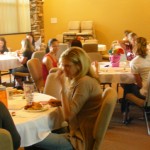 When I share with my friends and neighbor about the mom's group that I belong to, MOPS, I jokingly say it is not a cleaning group.  MOPS, Mother's of Preschoolers, is a group of local mothers with children up to preschool age.  Yes, we may know how to use a mop, but our group is about much more than housework.
MOPS is a safe, inviting environment where we as mothers are able to come together and experience some well deserved "me" time.  It is an opportunity to share our parental triumphs and to seek advice for our moments of failure.   Since becoming a mother myself, I've learned that it truly does take a "village" and MOPS is just that.  Being able to take a break away from the hustle and bustle of mommy-hood to visit and listen to other mother's makes me a better mom.
This year our theme comes from Peter 4:8-11 which says "Most of all, love each other as if your life depended on it."  Our bi-monthly meetings will take our members on a journey to learn how to truly incorporate this seemingly simple verse into every aspect of our lives.  It is going to be an amazing year.
We are thankful and grateful for the opportunity to meet and share atGraniteSpringsChurch.  We consider this time a gift, and treasure it more than can be put into words.  Thank you also to our volunteers who without them we would not be able to meet and to all of our members.  You are all inspirational!
Looking forward to sharing the MOPS experience,
Alicia Shrum
MOPS Publicity Director