My name is Sam Gutierrez. I'm happy and grateful to be back at Granite Springs Church. What do I mean by "back?" Well, some of you might remember me from way back when… I worked at Granite Springs at a Junior high and Senior high youth pastor from 2000-2003 (when GSC was worshipping in that old warehouse!)
In the summer of 2000, my parents and my sister drove me up to Rocklin from Southern California to begin my first "real" job as a fresh graduate of Dordt College. Although I had majored in Graphic Design, I was feeling God's call to serve in ministry and when Kevin Adams offered me the job (after a 4 day interview process) I had to accept… after all, how could anyone resist that smiling gracious face?!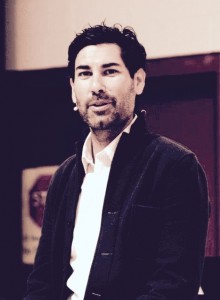 A lot of life has happened between 2003 and 2016. I'm a bit older now…I even have a few grey hairs and I've learned a lot. These past 13 years have been filled with joy, laughter, risk, failure, success, mistakes, tears, poetry, travel, study, family, lots of coffee, art, pets, and good friends. I've grown in ways that I would have never imagined.
I learned that life is messy and that's ok. I've also learned in a much deeper way, the promise of the gospel – that God can take the messy, stinky manure of our lives and grow flowers in it.
I'll be working at Granite Springs Church for the next six months as a Pastor of Spiritual Formation. What is that you ask? I help people to be open – to life, to love, to pain, to joy… to God. I help people to notice the mysterious work of God in their lives, to name it by trying to put some language around it and to nurture it by engaging in practices that open the heart and quiet the mind. I encourage and help people to take the next step of faith – whatever that may be. Whether you're a spiritual beginner or you've been a Christian your whole life, everyone has a next step to take ~ we never stop growing in faith, hope and love.
I'm so thankful to be here and I can't wait to know your names, hear your stories, pray with you, worship with you and explore together God's amazing grace at work in our lives and in the world.
Sam